Dji Mavic Air Arctic White
Mavic Air bisa dilipat ke atas untuk memudahkan mobilitasnya dibawa ke mana-mana. Ketika dilipat, DJI Mavic Air lebih kecil ketimbang Spark dan 41 persen lebih ringan daripada Mavic Pro. DJI Mavic Air menggunakan sensor 1/2,3 inci yang mampu merekam video 4k pada 24 hingga 30 bingkai per detiknya. Sensor itu berkualitas 12 megapiksel dengan lensa lebar 24mm bukaan f/2.8. DJI Mavic Air mampu terbang 42 mil per jam pada keadaan normal. Situasi angin kencang membuatnya hanya bisa terbang 22 mil per jam. Waktu terbangnya 21 menit atau lima menit lebih lama dibandingkan Spark, tetapi enam menit lebih singkat ketimbang Mavic Pro.
FlightAutonomy 2.0
Dengan menggunakan teknologi VIO yang canggih, sistem sensor yang kuat di FlightAutonomy 2.0 terdiri dari kamera gimbal urama, sensor dual-vision ke depan, ke belakang dan ke bawah, sistem penginderaan inframerah ke bawah, redundansi IMU, dan kumpulan komputasi core. Bersama-sama, mengumpulkan dan mengirimkan informasi dari lingkungan sekitar ke prosesor berkinerja tinggi agar lebih tepat melayang dan kinerja penerbangan lebih baik. Advanced Pilot Assistance Systems (APAS) memungkinkan drone terbang melewati rintangan di depan dan dibelakang secara aktif.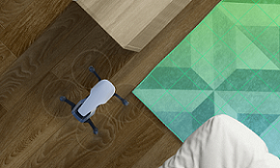 Visual Inertial Odometry (VIO)
Kombinasi teknologi VIO dan algoritma penentuan posisi telah melipatgandakan posisi presisi Mavic Air. Teknologi VIO menghitung kecepatan dan sikap drone secara real-time, membuat pengukuran sikap dual-camera saat melayang atau terbang dengan kecepatan apapun. Rentang kerja dari sistem penentuan posisi visi sekarang adalah 0,5 sampai 30 meter. Dengan teknologi VIO, Mavic Air melayang lebih tepat di dalam ruangan dan merespon lingkungan lebih baik.
3D Map Building
Dilengkapi dengan sistem penginderaan yang canggih, Mavic Air menempatkan dirinya dengan akurasi dan presisi. Dengan mengolah data dari tujuh kamera di bagian depan, bawah dan belakang body, di samping sensor inframerah maju dan IMU, Mavic Air akan membangun peta 3D dengan merasakan lingkungan secara real time secara signifikan meningkatkan keselamatan penerbangan secara keseluruhan.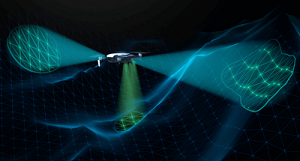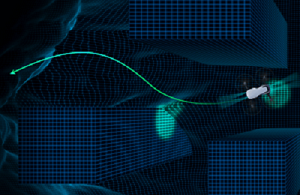 Advanced Pilot Assistance Systems (APAS)
APAS adalah hasil penelitian ekstensif DJI tentang perhitungan jalur penerbangan. Pengguna dapat terus terbang ke depan dan ke belakang, dan APAS akan merencanakan jalur penerbangan yang sesuai untuk melewati rintangan secara otimatis.
Multiple Redundancies
Selain IMUs ganda, FLightAutonomu 2.0 memiliki modul yang lebih berlebihan untuk meningkatkan tingkat keamanan Mavic Air. Vision Compass akan membantu sistem navigasi untuk memperkirakan arah penerbangan saat kompas mengalami gangguan. Bila hanya satu arah sistem penglihatan depan, bawah, atau belakang yang berfungsi normal, drone akan tetap memposisikan dirinya dengan sukses. Ada 2 set algoritma fusi sensor berdasarkan dua platform perangkat keras independen. Ketika terjadi kesalahan pada satu set algoritma, drone akan beralih ke pasangan lainnya tanpa henti melanjutkan fungsi normal.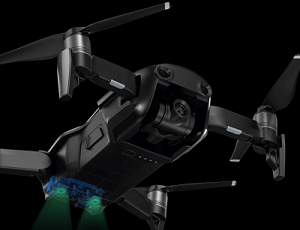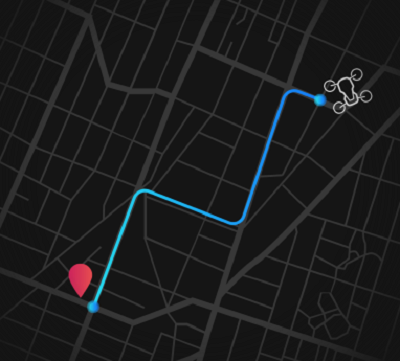 More Reliable Return to Home (RTH)
Memperluas sistem RTH yang ada, Mavic Air akan memastikan jalur penerbangan teraman selama RTH. Hal ini dilakukan dengan cara merekam jalur penerbangan real-time, dan saat sinyal kontrol hilnag, drone akan terbang menuju Home Point, melewati penyumbatan sinyal dan menyambung kembali ke pengontrol. Ketika Mavic Air mendeteksi rintangan, ia akan memilih jalan yang tepat untuk melewatinya sesuai dengan ketinggian. Drone akan sesuai dengan gambar tanah yang ditangkap saat lepas landas untuk meningkatkan akurasi pendaratan. Saat mendarat secara otomatis, Mavic Air akan memindai medan area pendaratan secara real-time, lalu memperingatkan pengguna dan melayang dengan aman jika mendeteksi adanya rintangan atau air di area pendaratan.
Overview
32 MP Sphere Panoramas

Foldable & Portable

3-Axis Gimbal & 4K Camera

3-Directional Environment Sensing

SmartCapture

21-Minute Flight Time
In The Box
1x Mavic Air
1x Remote Controller
1x Battery
1x Charger
1x Power Cable
4x Propellers
1x Propeller Guard
1x RC Cable (Lightning Connector)
1x RC Cable (Micro USB Connector)
1x RC Cable (UBS Type C)
1x Gimbal Protector
1x Communication Cable (USB 3.0 Type C)
1x USB Adapter
1x RC Cable Slider (Large)
2x RC Cable Slider (Small)
1x Carrying Case
1x Spare Control Sticks
WARRANTY DISTRIBUTOR:
Jaminan service / spare part selama 1 tahun.
Pembeli wajib membawa Invoice yang memiliki nomor order pembelian pada saat melakukan klaim.
Garansi tidak berlaku apabila barang terjadi kerusakan/ cacat pada nomor serial yang tertera pada kemasan.
Garansi tidak berlaku apabila barang tersebut pernah di buka / di perbaiki dan di bongkar sendiri oleh pemilik / pihak lain tanpa sepengetahuan / persetujan distributor.
Injeksi Fimaware yang di lakukan diluar Service Center mengakibatkan Garansi Void / Hilang
Garansi tidak berlaku jika kerusakan akbat kesalahan pengguna
Dead pixel tidak dapat diklaim apabila kurang Tiga titik.
Garansi tidak berlaku karena faktor alam.
Service Center berhak menolak setiap klaim yang di ajukan, bisa dirasa perlu
Service Center tidak bertanggung jawab terhadap kehilangan data pada unit yang di service ( pemilik harus melakukan back up data terlebih dahulu )
WARRANTY INTERNASIONAL :
Produk DJI yang dijual oleh Wearinasia.com adalah produk orisinil dan mempunyai warranty internasional DJI. Warranty ini dapat diurus langsung oleh konsumen dan ditujukan pada kantor pusat DJI yang terletak di Shenzen. Namun dikarenakan, Anda adalah pelanggan Wearinasia.com, proses akan dipermudah dengan kami (Wearinasia) yang akan mengkonfirmasi keabsahan produk untuk mengklaim warranty. Cakupan warranty sesuai dengan yang telah disebutkan pada paragraf "WARRANTY PRODUK DJI". Wearinasia.com, hanya memiliki kewajiban untuk memproses warranty produk DJI yang dibeli konsumen langsung dari situs Wearinasia.com, dengan kata lain, kami berhak untuk tidak memproses klaim warranty, produk DJI yang tidak dibeli dari Wearinasia.com.
JASA SERVIS GRATIS SELAMA 1 TAHUN:
Jasa Servis ini hanya berlaku bagi produk DJI yang dibeli langsung dari situs Wearinasia.com. Gratis jasa servis mencakup semua produk DJI, namun jasa servis ini tidak mencakup suku cadang, apabila kondisi kerusakan mengharuskan adanya pergantian suku cadang. Durasi pengecekan produk memakan waktu 14 hari kerja dan proses pengerjaan servis tergantung oleh tingkat kerusakan produk yang dialami oleh konsumen.
How many ways are there to fly the Mavic Air and how do I change control methods?
There are three ways to fly the Mavic Air. You can use the dedicated remote controller, your smartphone, or both together.
For the other two options, the Mavic Air connects to your smartphone via DJI GO 4.
How do I activate the Mavic Air?
Connect the Mavic Air with your mobile device and follow the instructions in DJI GO 4 to complete activation.
Is the Mavic Air waterproof?
No.
What Micro SD cards are recommended to use with the Mavic Air?
16 GB:
Sandisk Extreme
Kingston 16GB SDHC-I SDCAC/16GB
32 GB:
Sandisk Extreme V30
Sandisk Extreme V30 A1
Sandisk Extreme V30 Pro A1
64 GB:
Sandisk Extreme V30 A1
Sandisk Extreme Pro V30 A1
128 GB:
Sandisk Extreme V30 A1
Sandisk Extreme Plus V30 A1
Remote Controller
Can I connect my smartphone to the remote controller using an ordinary USB cable?
Yes. You can use an ordinary USB cable to connect your smartphone to the remote controller via the USB port at the bottom of the controller, but this may result in more discomfort when handling. Different cables come with the aircraft to meet your needs.
Where can I find the Mavic Air's Wi-Fi name and password?
For safety reasons, every Mavic Air has a unique Wi-Fi name and password. These are listed on the side of the aircraft body, in the battery compartment, and on the carrying case. (For iOS systems, iOS v9.0 or later is required.)
Connect your smartphone to the aircraft's Wi-Fi by scanning the QR code with DJI GO 4 app for first-time use. Alternatively, you can manually type in the Wi-Fi name and password.
How can I change the Mavic Air's Wi-Fi name and password?
First, connect your smartphone to the aircraft via Wi-Fi. Next, enter the DJI GO 4 app and go to Wi-Fi Settings to change the Wi-Fi name and password. You can also change the Wi-Fi name and password with DJI Assistant 2 on a computer.
Is it possible to connect to the Mavic Air's Wi-Fi by using a third-party app to scan the QR code?
No. You can only scan the QR code to connect to the aircraft's Wi-Fi using DJI GO 4.
Propulsion
Should I take the propellers off when transporting the Mavic Air?
Doing so isn't necessary.
Why does the Mavic Air use non-foldable propellers?
The non-foldable propellers are more streamlined, making the Mavic Air smaller and more portable when folded.
What is the highest level of wind the Mavic Air can resist?
The Mavic Air can withstand wind speeds up to 10 m/s.
What is the Mavic Air's max service ceiling above sea level?
16,400 ft (5000 m).
Features
What is the maximum control range of the Mavic Air in SmartCapture?
The control range is 8.2–19.68 ft (2.5–6 m).
What Panorama modes does the Mavic Air support?
The Mavic Air supports the following panorama modes:
Vertical: The camera automatically takes three vertical photos, stitching them into one panorama.
Horizontal: The camera will take nine photos from different angles, stitching them into one panorama.
180°: The Mavic Air automatically rotates its body and gimbal shooting 21 pictures, stitching them together in DJI GO 4 for a breathtaking 180° panorama.
Sphere: The Mavic Air automatically rotates its body and gimbal to shoot 25 photos, stitching them together for an eye-catching spherical panorama.
When flying the Mavic Air close to me in SmartCapture mode, why does the aircraft remain at eye level?
SmartCapture only allows the Mavic Air to fly at eye level when it's 9.8 feet (3 meters) or less away from you. This is to ensure better flight safety and control precision. You can gesture to fly higher or lower when it's farther away from you.
Batteries
Can the Mavic Air Battery Charger be used to charge the aircraft and RC at the same time?
Yes.
What is the Battery to Power Bank Adaptor used for?
Turn on the Mavic Pro in Wi-Fi mode, press the linking button and hold for 5s.
What functions does the power button perform?
The power button powers on and off the battery. To do this, press it once, and then press again, holding it for at least two seconds to power on or off the battery.
The power button also allows you to check the battery level. To do this, press the power button once and observe how many LEDs light up for the power level.
How long does it take to charge a battery fully?
It takes 55 minutes to charge a battery fully when using a standard USB charger or a Charging Hub.
How often should I charge my batteries?
It is recommended to charge batteries at least once every three months fully.
Updating Firmware
Can I use other apps while updating DJI GO 4?
No. If you do, the update will fail. You will then need to download the firmware and update again.
Why does DJI GO 4 remind me to reconnect to the Mavic Air's Wi-Fi right before it restarts to complete the update?
Before the update is complete, the aircraft will need to restart. Once it does, reconnect your mobile device to the Mavic Air's Wi-Fi. DJI GO 4 is just reminding you that you will need to do this for a successful update.
Can I disconnect from the internet once the firmware is downloaded successfully?
Yes.
What should I do if the aircraft and battery firmware versions are inconsistent?
Connect the Mavic Air to DJI GO 4, and the app will inform you of appropriate updates to ensure consistency.
What factors could lead to an update failure?
a. Low-battery level. Make sure the battery level is higher than 50%.
b. Powering off the Mavic Air or the remote controller during the update. If this happens, please restart the Mavic Air and the remote controller and begin the update again.
c. Internet disconnection when downloading firmware.
d. If update failure persists, or the remote controller does not link with the aircraft, there may be firmware inconsistencies between devices. In this case, use DJI Assistant 2 on your computer to update your aircraft and the remote controller to the latest versions separately.
Video Transmission
What is the Mavic Air's video transmission range?
When connected to the remote controller:
2.4GHz
FCC: 4000 m, CE: 2000 m, SRRC: 2000 m (unobstructed, free of interference, when FCC compliant).
5.8GHz
FCC: 4000 m, CE: 500 m, SRRC: 2500 m (unobstructed, free of interference, when FCC compliant).
When connected to a mobile device:
Max height: 50 m
Max distance: 80 m
What is the resolution of the Mavic Air's video transmission?
720p at 30 fps.
What is the latency of the Mavic Air's video transmission?
The video transmission latency to your mobile device is 170 to 240 ms. However, this is subject to the performance of your mobile device and signal interference.
Can frequency bands be manually adjusted during video transmission?
DJI GO 4 chooses a frequency band automatically by default, but users can manually select between 2.4 GHz and 5.8 GHz frequencies, according to actual needs.
Kami melayani pembelian corporate (B2B) dengan pembuatan penawaran. Silahkan isi form dibawah ini untuk pembuatan penawaran
Ringkasan
Berikan ulasan Anda terkait produk ini atau layanan kami
Ulasan hanya bisa dilakukan oleh konsumen yang sudah melakukan pembelian terhadap produk ini
Belum ada ulasan untuk produk ini
Belum ada diskusi untuk produk ini. Silahkan login/masuk terlebih dahulu untuk menambahkan pertanyaan!