DJI Spark Combo - Alpine White
Spark merupakan drone mini buatan DJI yang dibekali dengan banyaknya teknologi untuk memanjakan momen berharga Anda.

LEPAS LANDAS CEPAT
Dengan FaceAware, Spark mampu lepas landas dalam sekejap dari tangan pengguna setelah mendeteksi wajah dan dalam tempo satu detik, Spark sudah mengudara.
KONTROL YANG SEDERHANA
Tangkap foto udara cukup dengan menggunakan gerakan tangan tanpa perlu menggunakan remot kontrol atau smartphone.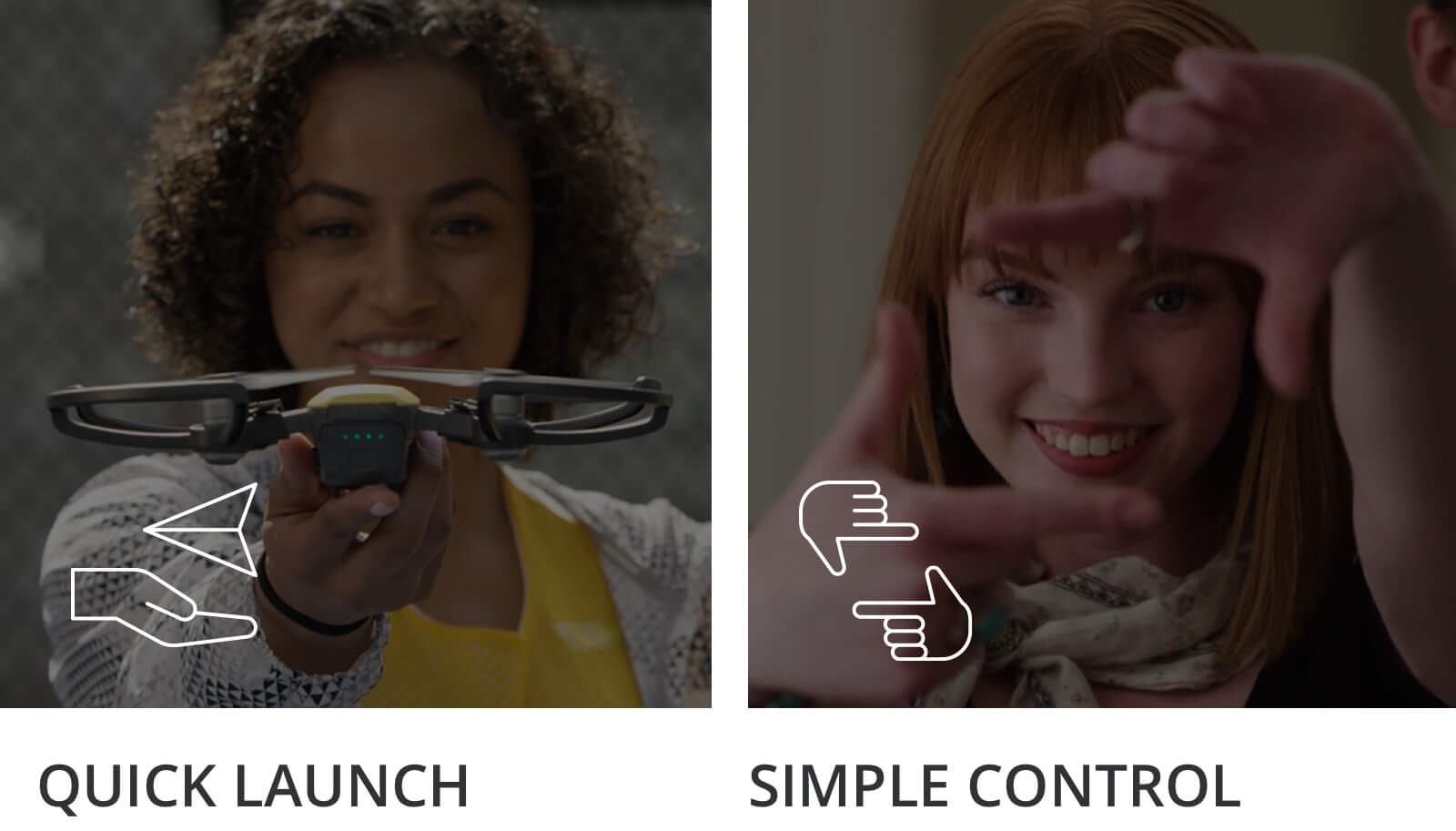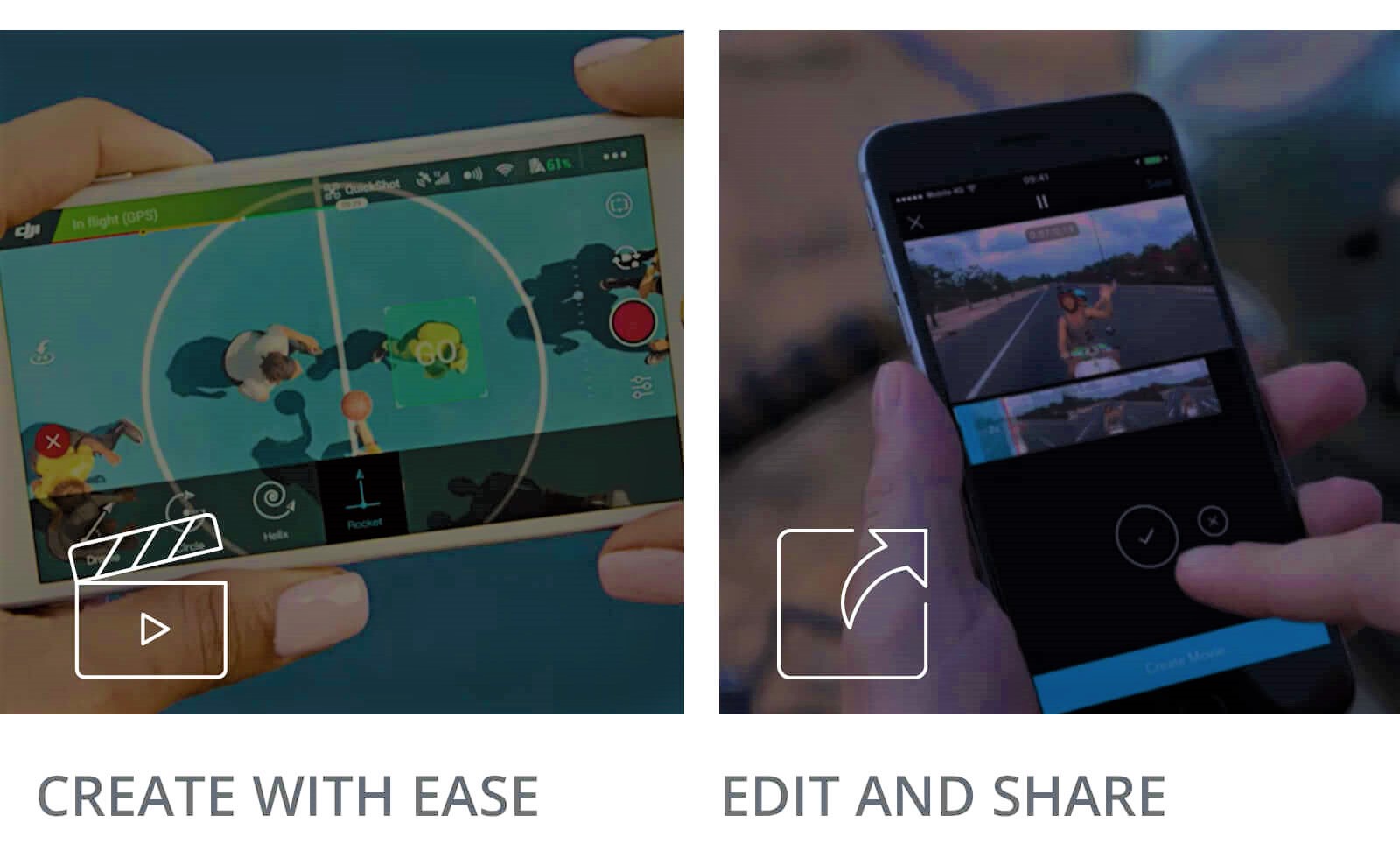 DIBUAT UNTUK DIGUNAKAN DENGAN MUDAH
Intelligent Flight Modes dan control yang intuitif membuat proses pembuatan video udara yang cinematic lebih mudah.
EDIT DAN SEBARKAN
Aplikasi DJI GO 4 memberikan filter edit otomatis dengan beragam pilihan template dan filter. Sehingga proses edit semakin cepat dan mudah untuk disebarkan ke media sosial.
CIPTAKAN VIDEO CUKUP DENGAN KETUK
Fitur QuickShot memungkinkan pengguna untuk merekam dari beragam sudut sinematis yang profesional.
Rocket - Lepas landas secara vertikal dengan kamera menghadap ke sudut bawah
Drone - Terbang mundur dan ke dupant, dengan Sarah kamera terkunci ke subies yang ditargetkan
Circle - Mengitari target
Helix - Terbang secara vertikal dan Bergerac membentuk spiral di sekeliling subjek video.
TERBANG SEMUDAH MENUNJUK
Pada mode TapFly, pengguna cukup bayangkan hasil yang diinginkan dan Spark akan segera mengabadikannya. Ketuk layar smartphone dan Spark dental beak vision technology-nya, akan terbang ke titik yang diketuk pengguna.
Koordinasi: Ketuk layar dan Spark segera terming menorah ke titik tersebut sembari mempertahankan ketinggian.
Direksi: Terus terbang ke arah yang diinginkan dengan mengetuk layar

STAY ON TARGET
Dengan ActiveTrack, Spark secara otomatis mengenali objek dengan beragam bentuk, ukuran, dan mengikuti gerakan objek tersebut.
Trace: Mengikuti target dari sudut depen, belakang, atau bahkan mengitarinya
Profile: Mengikuti target dengan perspektif tetap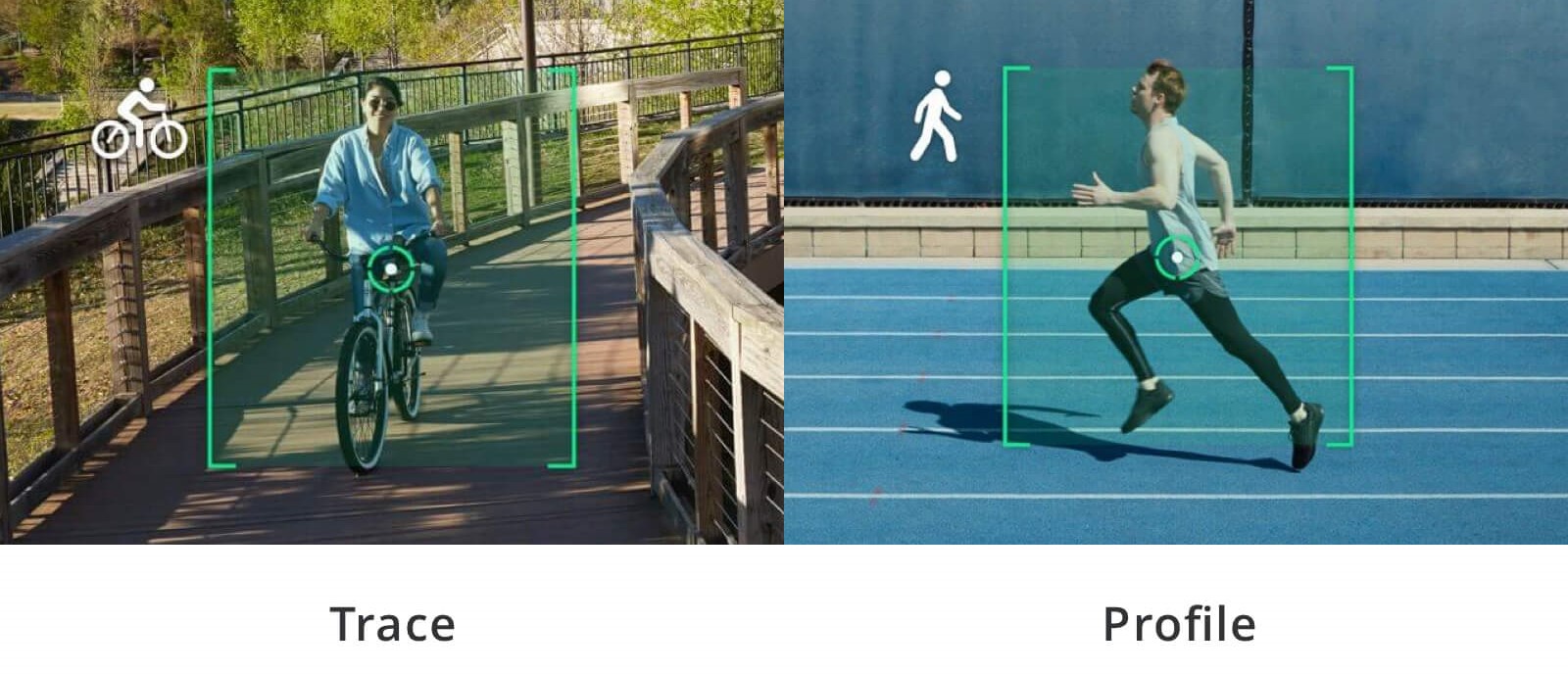 YOUR MOMENTS, CAPTURED
Kemampuan membaca gestur membuat Spark mempermudah sesi mengambil selfie lebih mudah, dengan menggunakan gerakan tangan yang sederhana. alias PalmControl.
Selfies: Lambaikan tangan atau bentuk frame foto dental menggunakan jari untuk memerintahkan Spark mengambil foto.
PalmControl: Spark mampu mengikuti gerakan tangan atau bahkan mendarat di telapak tangan.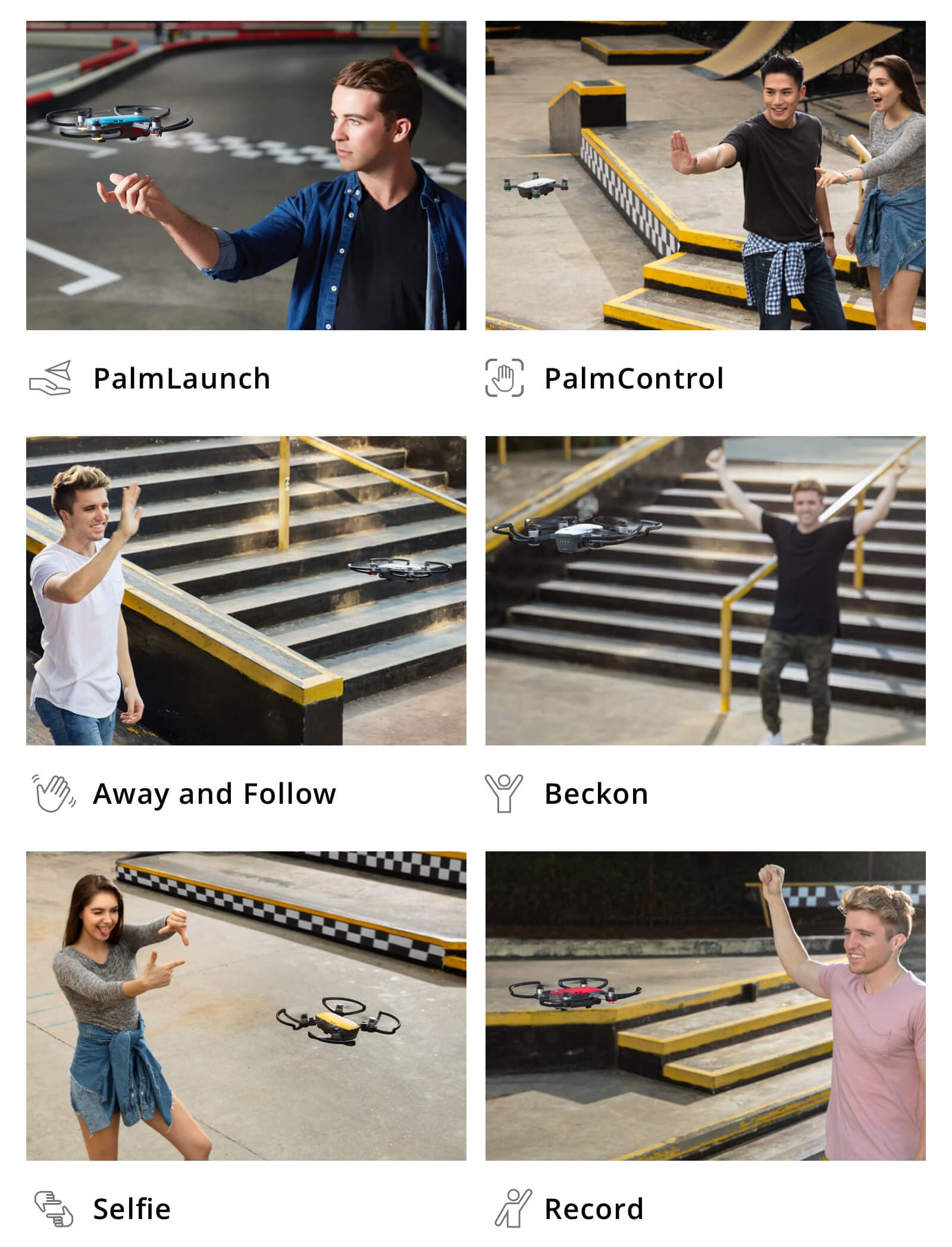 STABILISASI GIMBAL MEKANIS
SHAKE-FREE SHOTS
Spark dengan 2-axis teknologi gimbal dan UltraSmooth mekanis, secara dramatis mengurangi efek guncangan dan rolling shutter, dan menjaga tangkapan gambar anda tetap stabil dan terperinci.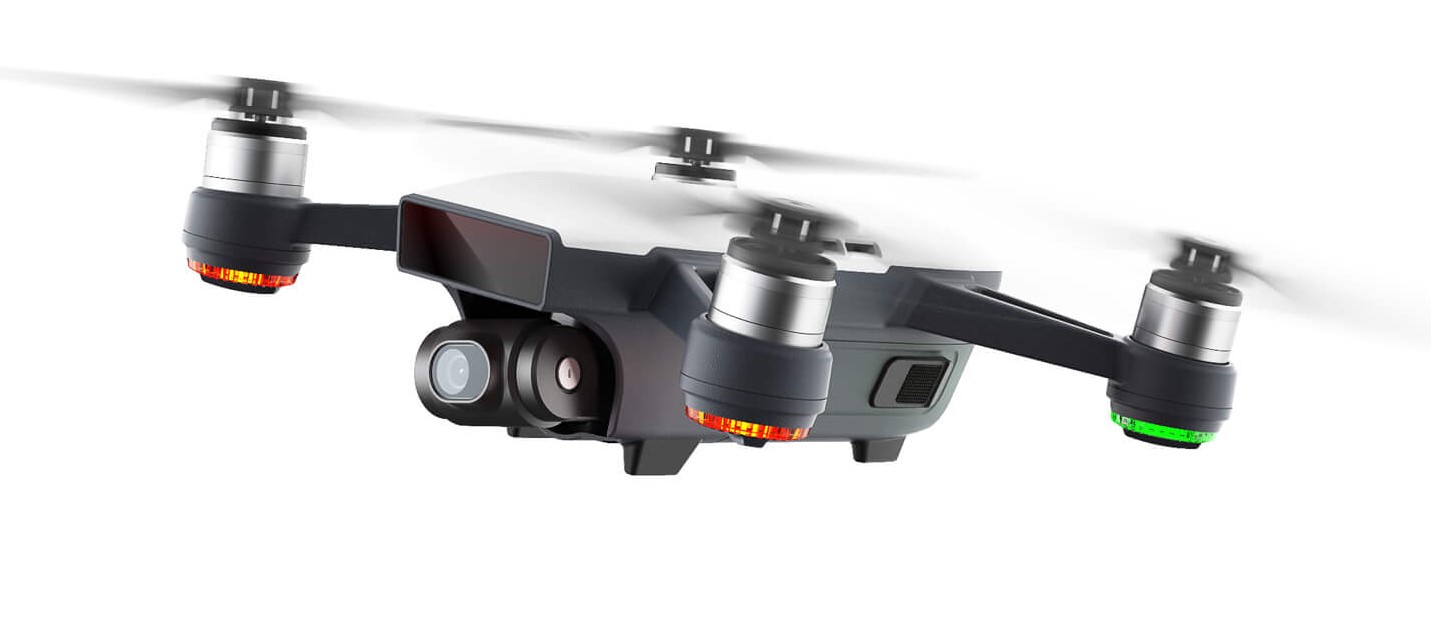 LENSA YANG KUAT DALAM MENANGKAP DUNIA
Gambar Spark memiliki hasil yang konsisten jelas dan tajam. Kamera Spark memiliki lensa sudut lebar f / 2.6 dengan panjang fokus setara 25 mm. lima elemen disusun menjadi satu kelompok yang sesuai dengan frame yang dikompresi.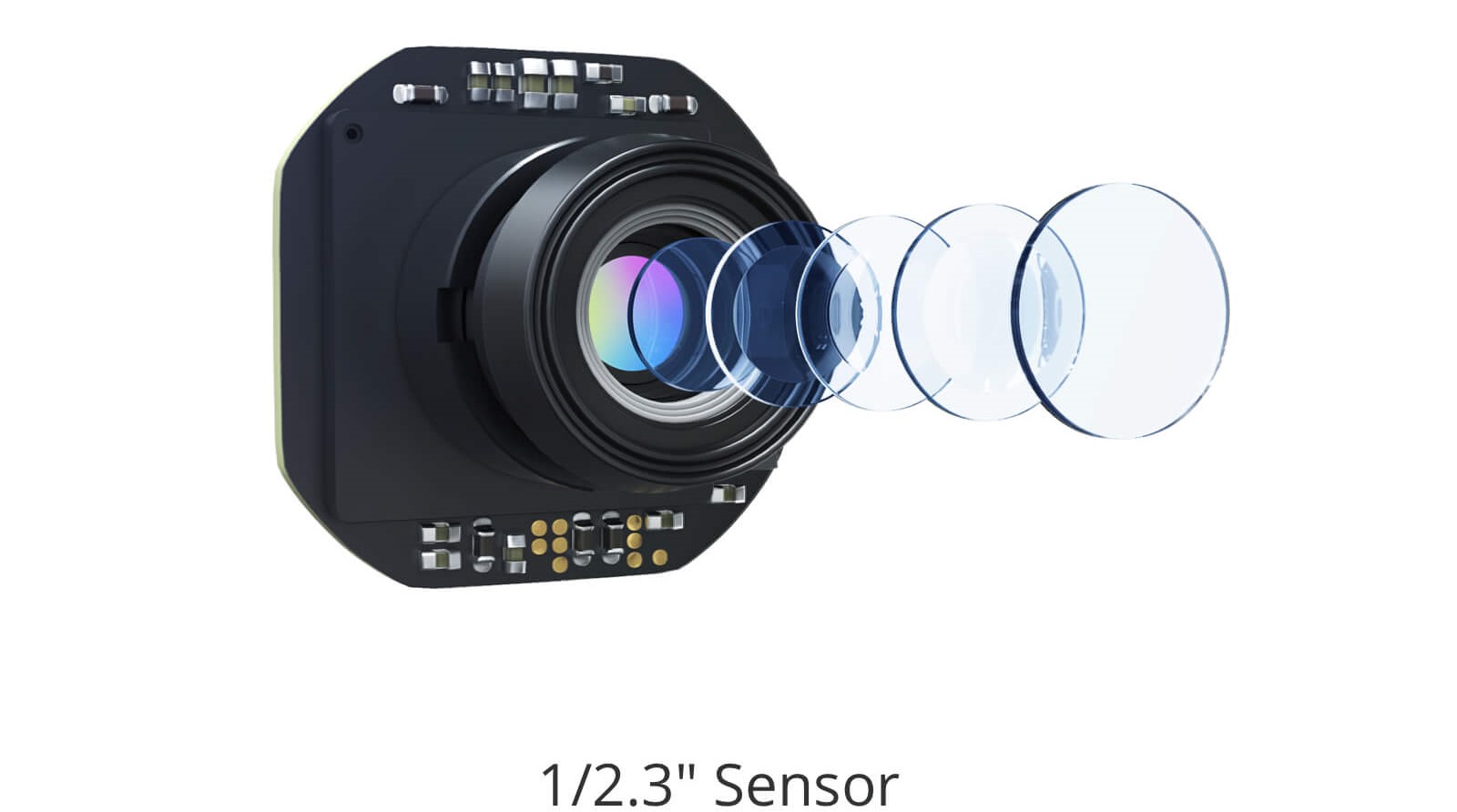 REKAM LEBIH DETAIL
Kamera kecil dan kompak, camera spark dengan sensor cmos 1 / 2.3 inci, memungkinkan Anda untuk merekam video stabil pada 1080p dan tetap pada 12 mp. piksel yang lebih besar berarti spark sangat sensitif terhadap cahaya dan merekam warna dengan tepat.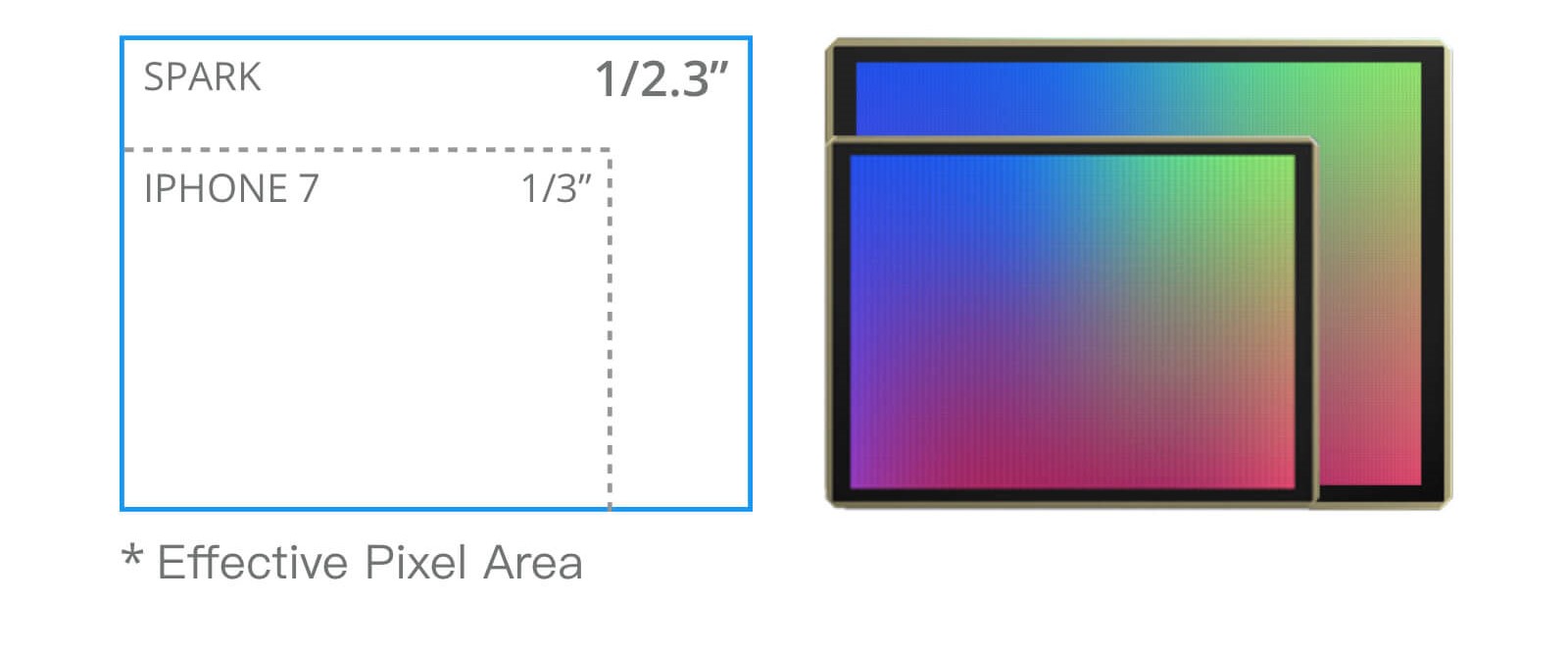 BEBERAPA MODE PEMOTRETAN FOTOGRAFI SERBAGUNA
Spark mengadopsi beragam mode rekam DJI versi terdahulu: Pano dan ShallowFocus
Pano: Spark mengambil rekaman horizontal atau vertikal dengan mengatur sudut gimbal dan arah harap drone.
ShallowFocus: 3D Vision Technology membuat proses pengambilan gambar dengan depth of field yang dangkal.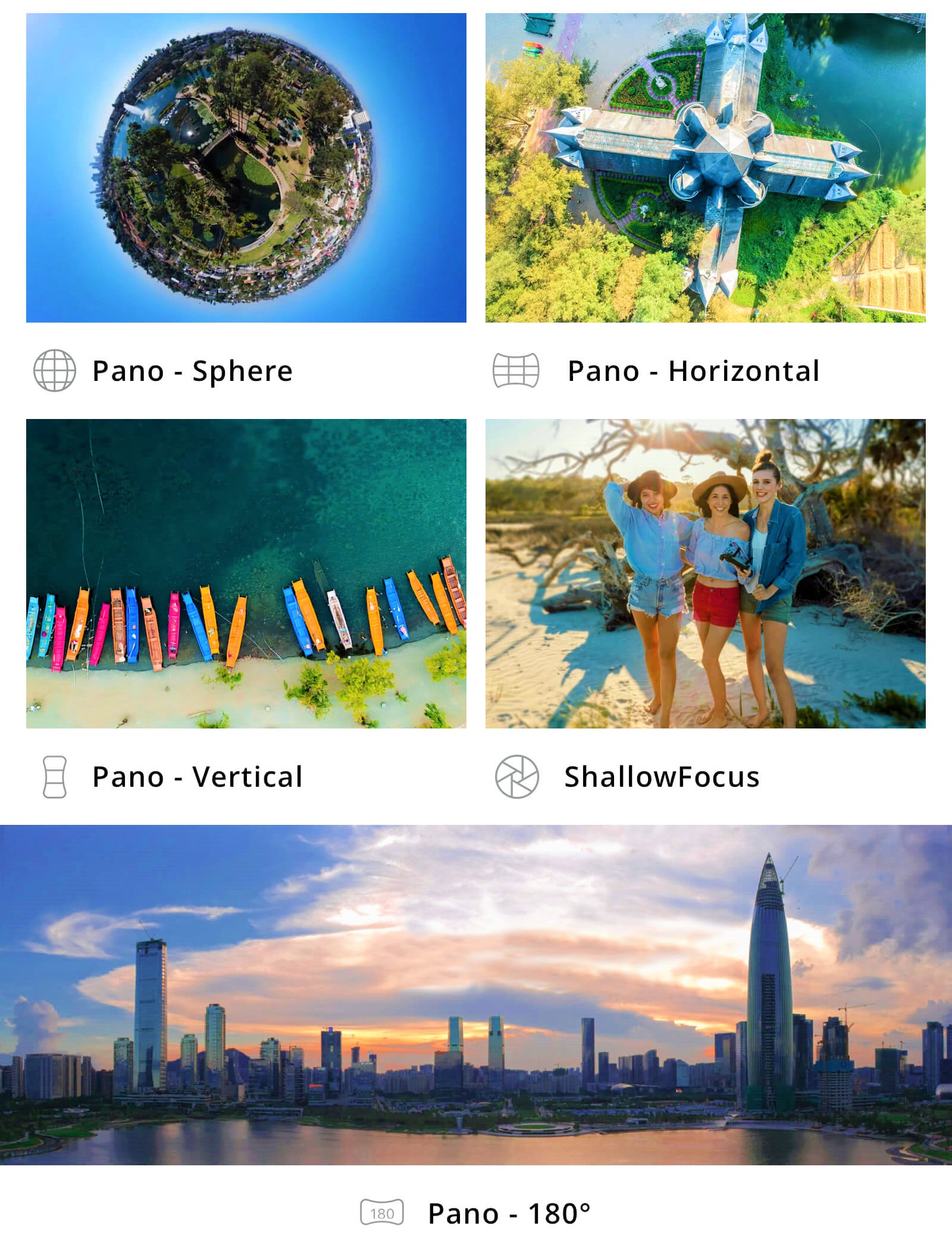 KONTROL KECEPATAN DAN KETEPATAN
Bermodal desainnya yang aerodinamis, ringan, dan desain yang menarik, Spark mengudara tanpa diterpa tekanan angin yang berarti. Gimbal dan kamera menjadi satu, sehingga menambah kestabilan. Propulsi yang bertenaga menawarkan penerbangan yang seimbang bahkan dibawah tekanan angin sampai 50kph saat dipacu dalam mode sport.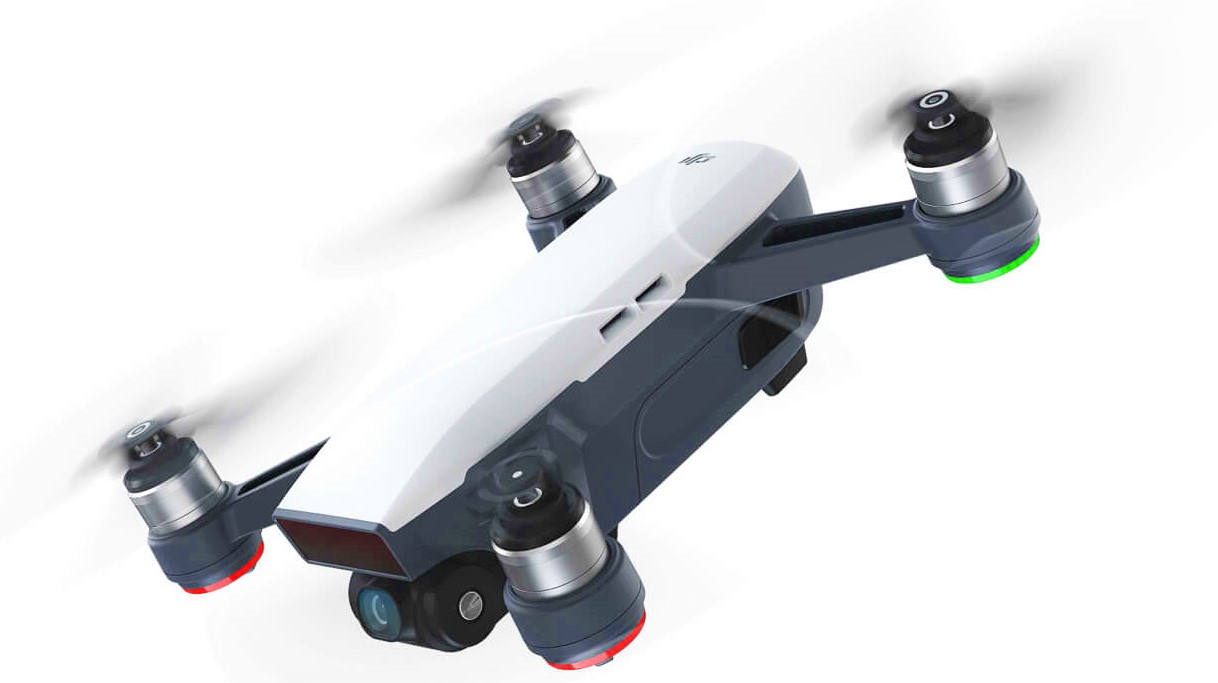 HD Wi-Fi Video Transmission
HD Wi-Fi yang inovatif memungkinkan pengguna menghasilkan transmisi video real time berkualitas 720p dari jarak 2KM.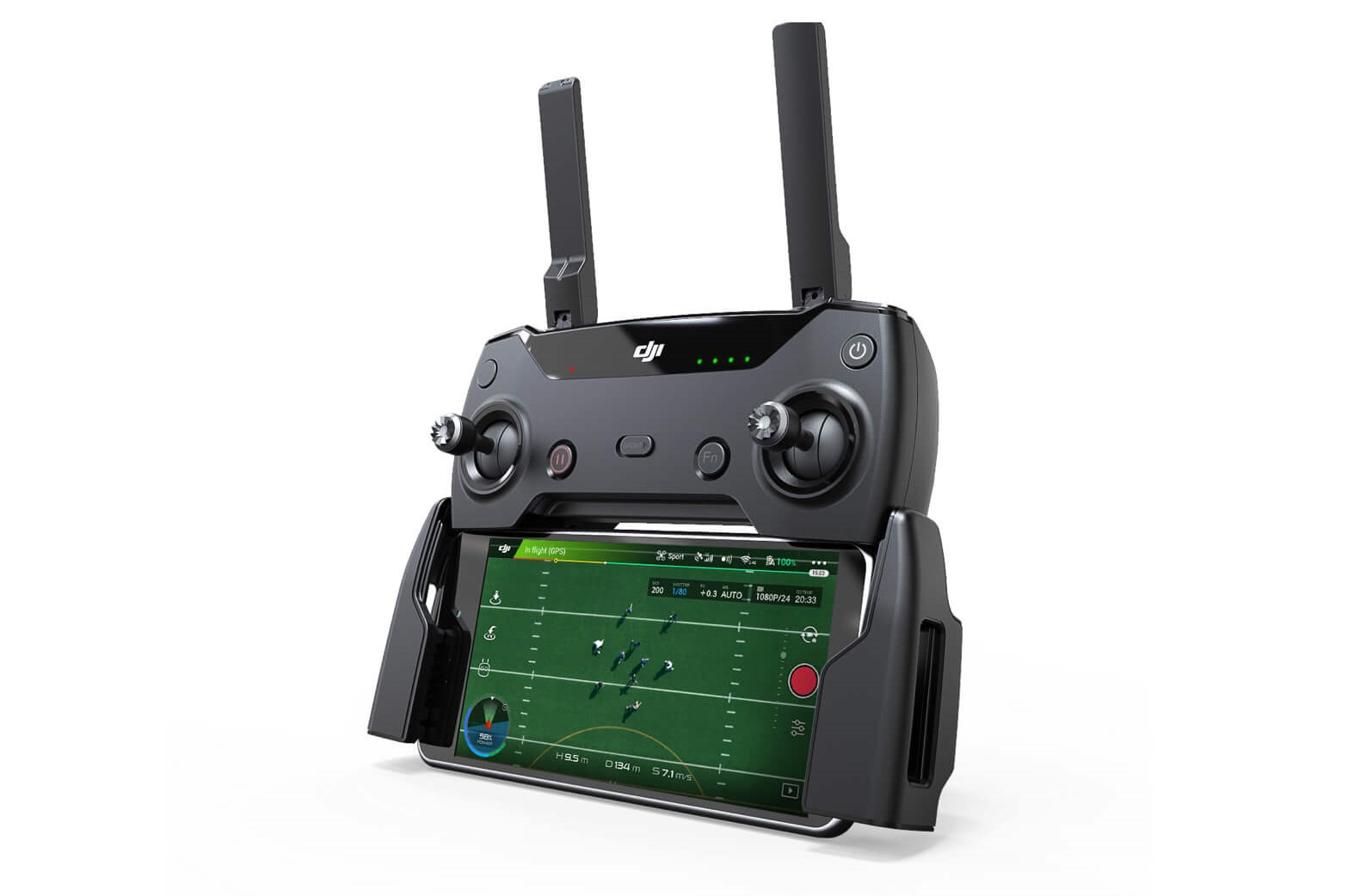 UNCOMPROMISED FLIGHT TIME
Spark dengan fitur cerdas Spark ini membuat waktu penerbangan tidak terhambat dan menangkap lebih banyak rekaman.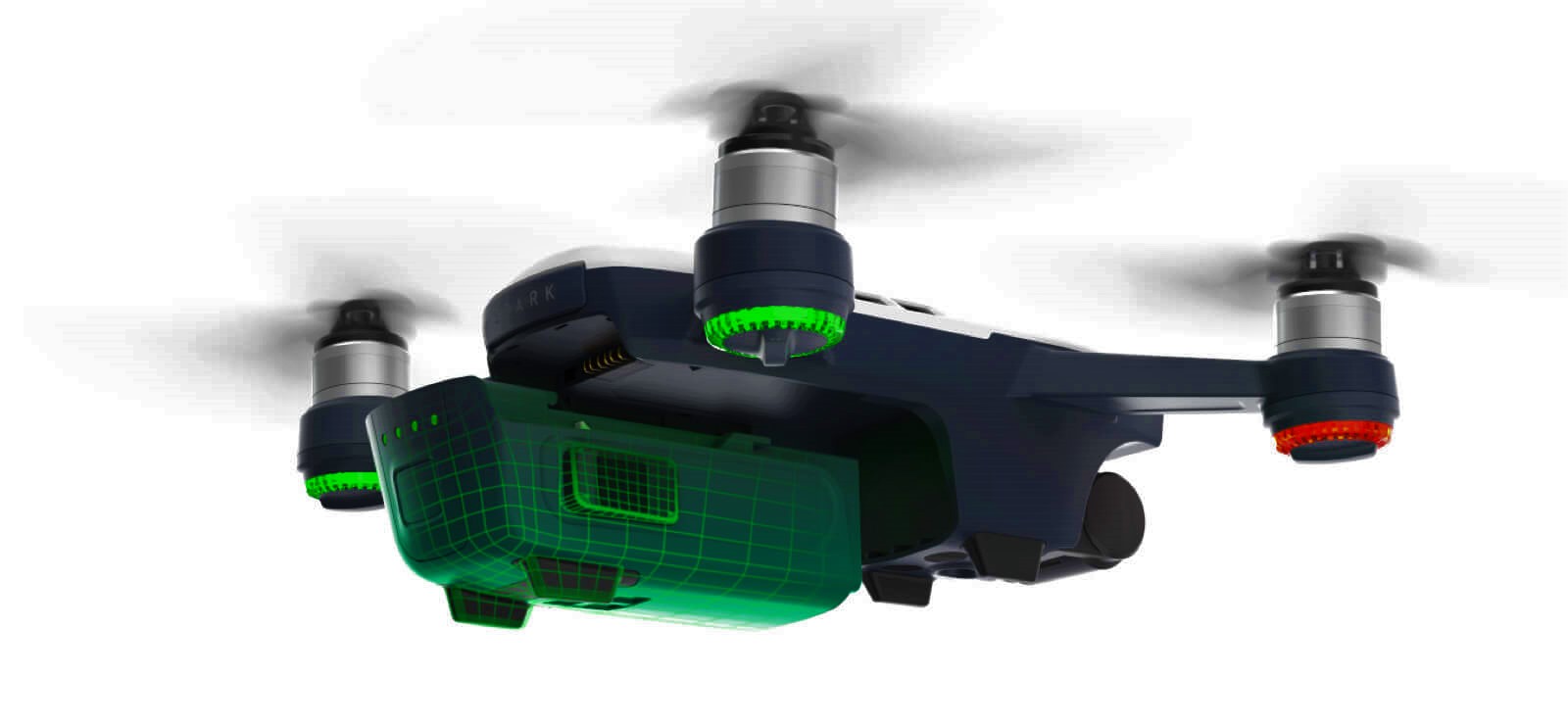 AERIAL IMMERSION
Ganti ke mode sport dan rasakan kecepatan Spark. Pada mode ini, mode gimbal akan teraplikasi ke mode FPV secara otomatis, sehingga kamera bergerak dengan pengguna saat terbang. Untuk sensasi yang lebih seru, pengguna dapat memadukannya dengan DJI Goggles.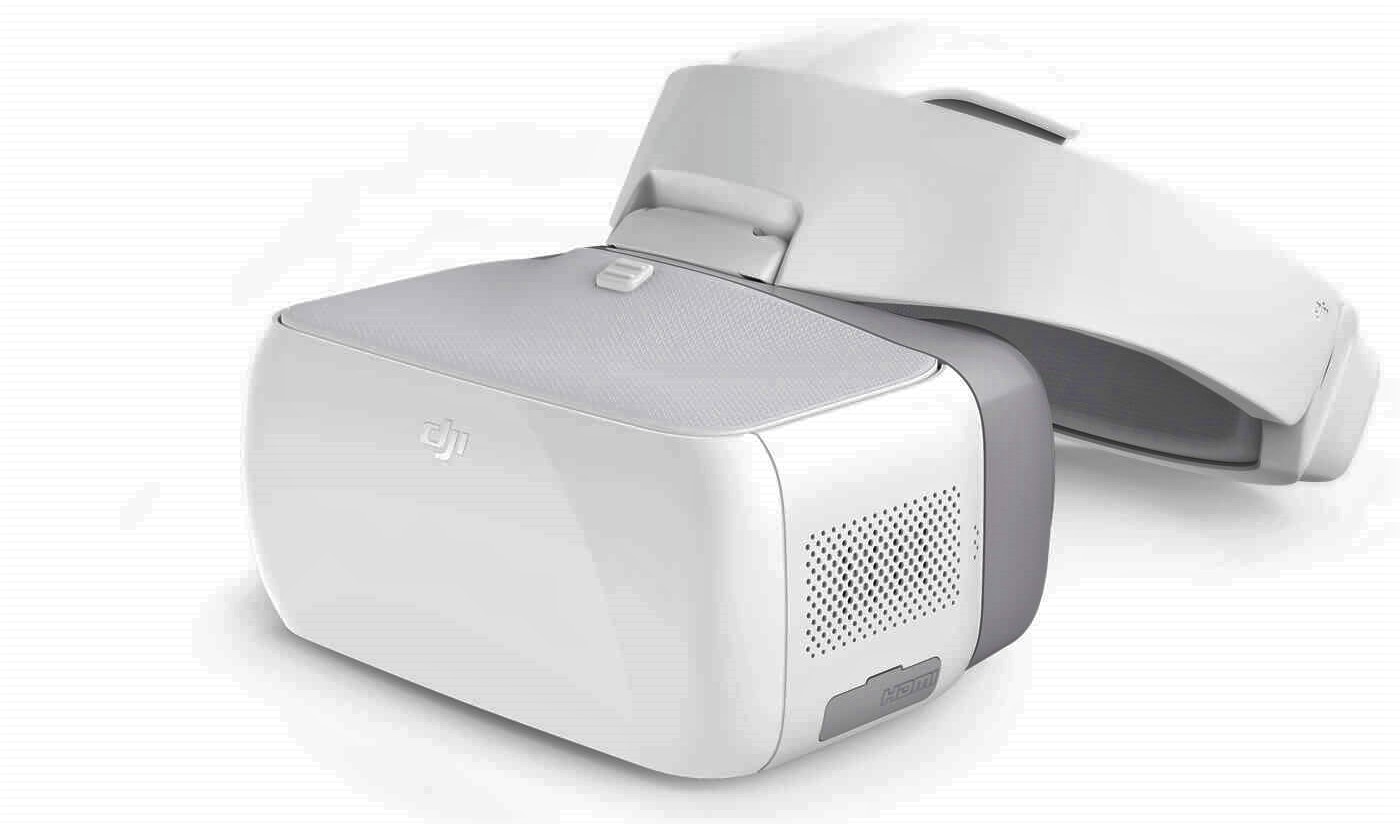 ENHANCED AWARENESS
Sistem FlightAutonomy Spark termasuk dalam kamera utama, VPS, 3D Sensing System, dual-band GPS, high-precision inertial measurement unit, dan 24 powerful computing cores. Dengan teknologi tersebut, Spark mampu melayang secure akurat dengan bantuan VPS pada ketinggian 30m, dan sensor penghindar rintangan, dan mendarat secara aman.
WORRY-FREE FLIGHT
Spark dapat berbalik ke titik lepas landas secara otomatis dengan bantuan sinyal GPS yang cukup. Hal tersebut akan terjadi saat baterai terlalu lemah, kehilangan koneksi, atau pengguna memencet fungsi Return To Home. Flight Protection Terbang lebih cerdas dengan sistem GEO milik DJI, dikarenakan sistem ini akan mendeteksi zona-zona yang dilarang terbang atau daerah yang penuh gangguan.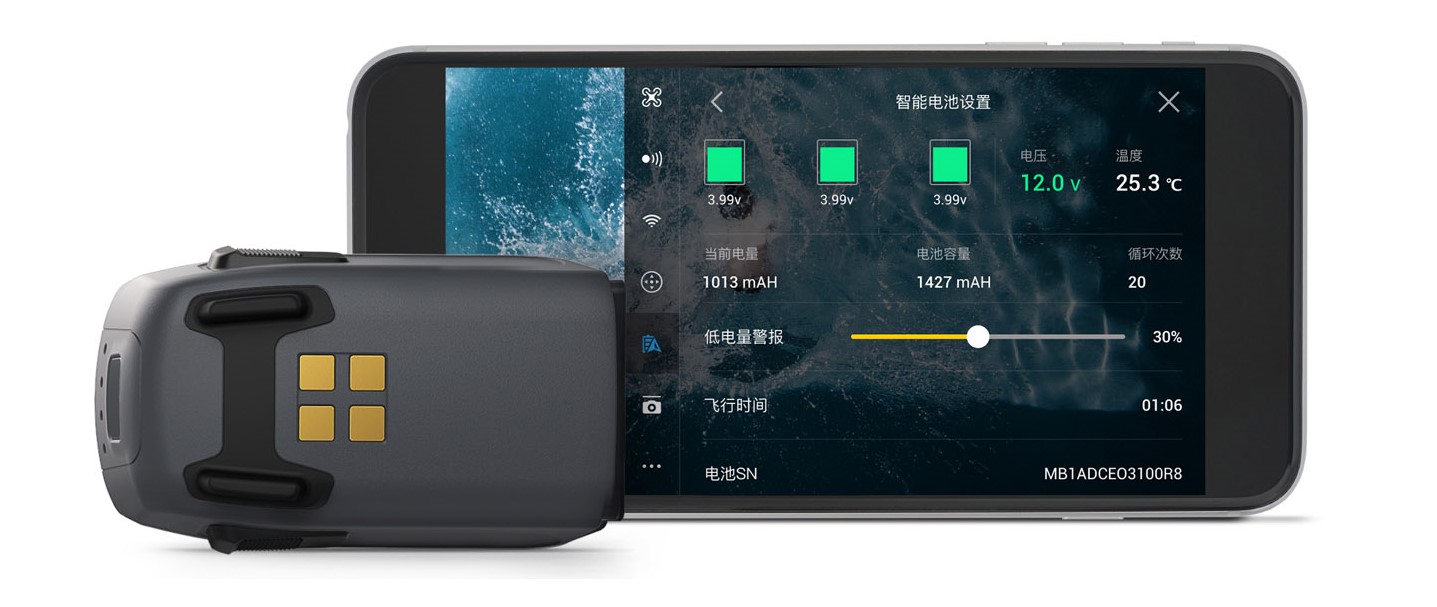 POWER AND PROTECTION
Selain itu, baterai Spark dapat memperkirakan waktu penerbangan yang tersisa, memberi tahu Anda kapan harus mendarat secara real time.
AVAILABLE IN 5 COLORS
Overview
Waktu terbang16 min
Jarak transmisi 1.2 mi(2 km)
Kecepatan 50 km/h
Jarak VPS 30 m
Gimbal 2-Axis
Kamera 12 MP
In The Box
1 Aircraft
1 Remot Kontrol
1 Set Pelindung Baling-baling
8 Propeller
2 Baterai
1 Charger
1 Kabel Micro USB
1 Kotak box
1 Charging Hub
1 Tas Selempang
WARRANTY DISTRIBUTOR:
Jaminan service / spare part selama 1 tahun.
Pembeli wajib membawa Invoice yang memiliki nomor order pembelian pada saat melakukan klaim.
Garansi tidak berlaku apabila barang terjadi kerusakan/ cacat pada nomor serial yang tertera pada kemasan.
Garansi tidak berlaku apabila barang tersebut pernah di buka / di perbaiki dan di bongkar sendiri oleh pemilik / pihak lain tanpa sepengetahuan / persetujan distributor.
Injeksi Fimaware yang di lakukan diluar Service Center mengakibatkan Garansi Void / Hilang
Garansi tidak berlaku jika kerusakan akbat kesalahan pengguna
Dead pixel tidak dapat diklaim apabila kurang Tiga titik.
Garansi tidak berlaku karena faktor alam.
Service Center berhak menolak setiap klaim yang di ajukan, bisa dirasa perlu
Service Center tidak bertanggung jawab terhadap kehilangan data pada unit yang di service ( pemilik harus melakukan back up data terlebih dahulu )
WARRANTY INTERNASIONAL :
Produk DJI yang dijual oleh Wearinasia.com adalah produk orisinil dan mempunyai warranty internasional DJI. Warranty ini dapat diurus langsung oleh konsumen dan ditujukan pada kantor pusat DJI yang terletak di Shenzen. Namun dikarenakan, Anda adalah pelanggan Wearinasia.com, proses akan dipermudah dengan kami (Wearinasia) yang akan mengkonfirmasi keabsahan produk untuk mengklaim warranty. Cakupan warranty sesuai dengan yang telah disebutkan pada paragraf "WARRANTY PRODUK DJI". Wearinasia.com, hanya memiliki kewajiban untuk memproses warranty produk DJI yang dibeli konsumen langsung dari situs Wearinasia.com, dengan kata lain, kami berhak untuk tidak memproses klaim warranty, produk DJI yang tidak dibeli dari Wearinasia.com.
GARANSI JASA SERVIS GRATIS SELAMA 1 TAHUN:
Garansi ini hanya berlaku bagi produk DJI yang dibeli langsung dari situs Wearinasia.com. Garansi gratis jasa servis mencakup semua produk DJI, namun garansi servis ini tidak mencakup suku cadang, apabila kondisi kerusakan mengharuskan adanya pergantian suku cadang. Durasi pengecekan produk memakan waktu 14 hari kerja dan proses pengerjaan servis tergantung oleh tingkat kerusakan produk yang dialami oleh konsumen.
PRODUCT What are the main differences between Spark and Mavic? Spark is smaller and lighter than the Mavic Pro, but also supports all of the Mavic Pro's Intelligent Flight Modes. Spark also introduces new features like QuickShot and advanced gesture controls like PalmControl. How do I control Spark? Control Spark with your mobile device by downloading the DJI GO 4 app or use the remote controller. How do I activate Spark? There are two ways to activate Spark: a. Connect Spark with your mobile device and follow the instructions in DJI GO 4 to complete activation. b. Tap the top right icon in DJI GO 4's main page, choose Scan QR Code, and use your mobile device's camera to scan the QR code in the aircraft's battery compartment. Follow the instructions in the app to complete activation. What are the recommended Micro SD cards for Spark? Sandisk 16 GB UHS-1 Micro SDHC Sandisk 32 GB UHS-1 Micro SDHC Sandisk 64 GB UHS-1 Micro SDHC Kingston 16 GB UHS-1 Micro SDHC Kingston 32 GB UHS-1 Micro SDHC Kingston 64 GB UHS-1 Micro SDHC Samsung 16GB UHS-I Micro SDHC Samsung 32GB UHS-I Micro SDHC Samsung 64GB UHS-I Micro SDXC Is Spark waterproof? No. It is recommended to avoid flying Spark in rain, fog, snow, or wet weather. Also avoid landing in or taking off from puddles, as the chassis is close to the ground. CAMERA What new functions does Spark's camera have? Spark supports ShallowFocus and Pano modes, which includes Horizontal and Vertical modes. What is ShallowFocus? ShallowFocus creates photos with a shallow depth of field with its 3D vision technology. Which Pano modes are available? Vertical Mode: The camera will capture three photos vertically, then combine them to make a vertical panorama. Horizontal Mode: The camera will take nine photos from different angles vertically and horizontally, then combine them to make a horizontal panorama. Can I capture photos or record video without a Micro SD card? Yes, you can. The aircraft will store photos and videos on your mobile device. In this instance, the images captured are actually from the live stream with a photo resolution of 1024×768 and video resolution of 1280×720. Vision What is the maximum distance and speed at which Spark can sense obstacles? Spark will automatically avoid obstacles up to 16 ft (5 m) in front of it. The maximum speed at which Spark is able to sense obstacles is 3 m/s. What new Intelligent Flight Modes does Spark include? Spark is the first DJI drone to feature new TapFly submodes, Coordinate and Direction. In QuickShot mode, Spark takes professional shots for you with Rocket, Dronie, Circle, and Helix. Spark's Gesture Mode also includes a new set of advanced gesture recognition capabilities, including PalmControl, Follow, Beckon, and PalmLand. Remote Controller What mobile device sizes fit inside Spark's remote controller? Spark's remote controller fits mobile devices 6.5‑8.5 mm thick and up to 160 mm long, without a phone case. Mobile devices larger than this do not fit the remote controller's device holder. How do I update the remote controller firmware? The remote controller firmware can be updated in DJI GO 4. How long does it take to fully charge the remote controller? How long is the battery life? It takes two hours to fully charge the remote controller for up to three hours of operation. How do I link Spark to the remote controller? Press the Pause, Fn, and C1 buttons at the same time. Once the controller starts beeping, release these buttons. With Spark powered on, press and hold the battery power button. When you hear Spark beep, release this button. Linking is now complete. What Wi-Fi frequencies does the remote controller support? The remote controller supports 2.4 GHz and 5.8 GHz dual‑band Wi‑Fi frequencies. What are the dimensions of the remote controller? The remote controller is approximately 15 cm long, 8 cm high, and 6 cm thick. Propulsion Do I have to remove the propellers when storing or transporting Spark? No. Just fold the propellers. What happens if the propellers are not fully unfolded before flight? Once the rotors start spinning, centrifugal force will automatically unfold the propellers into the correct position. Spark's motors are not all on the same plane. Will this affect flight performance? No. Each motor sits at a 5° angle for optimal flight performance. Video Transmission What's the resolution of Spark's video transmission? 720p 30 fps. What's the latency of Spark's video transmission? The video transmission latency to your mobile device is about 200 ms. It is subject to the performance of your mobile device and signal interference. What is Spark's effective transmission range? When connected to a remote controller: 2.4 GHz FCC: 1.2 mi (2 km); CE: 0.3 mi (500 m); SRRC: 0.3 mi (500 m) (unobstructed and free of interference) 5.8 GHz FCC: 1.2 mi (2 km); CE: 0.18 mi (300 m); SRRC: 0.7 mi (1.2 km) (unobstructed and free of interference) When connected directly to a mobile device: A max height of 50 m and distance of 100 m. Can frequency bands be manually adjusted during video transmission? Yes. Users can manually choose between 2.4 GHz and 5.8 GHz or let DJI GO 4 choose a frequency band automatically. Where can I check the aircraft Wi-Fi's username and password? There are three places where you can check this information: a. The battery compartment on the aircraft (only the default Wi-Fi username and password can be found here); b. The Settings option in DJI Assistant 2 or DJI GO 4; c. The foam outer box (only the default Wi-Fi username and password can be found here). How do I reset or modify Spark's Wi-Fi username and password? To reset, hold the power button down for 9 seconds until you hear the aircraft beep three times. 
 To modify, connect your mobile device to Spark, enter the DJI GO 4 app, and modify the Wi-Fi username and password in the Connection Help Menu. 
(Note: If Spark is connected with DJI Assistant 2 on a computer, restart the aircraft before resetting the Wi-Fi username and password.)
 My mobile device does not detect Spark's Wi-Fi when I turn it on. What should I do? This may be because Spark was previously connected to the remote controller. To prompt detection, power on the aircraft, then press down on the power button for six seconds until you hear the aircraft beep twice. This indicates that Spark's Wi-Fi is now detectable on your mobile device. Battery How do I charge Spark? Use the included USB cable to charge Spark. During charging, do not remove the battery from the aircraft. Use the Charging Hub to charge three batteries simultaneously. If using the Charging Hub, you will need to remove the batteries from the aircraft and place them in the Charging Hub. My newly purchased battery is not responding when I press the power button. What should I do? New batteries are shipped in Hibernation Mode. In order to activate your newly purchased battery, charge it fully. How long does it take to fully charge a battery? When using a standard USB charger, it takes 80 minutes to fully charge a battery.
When using a Charging Hub, it takes 52 minutes to fully charge one battery, 55 minutes when charging two batteries and 85.2 minutes when charging three batteries at the same time. How often should I fully charge my Spark batteries? It is recommended to fully charge Spark batteries at least once every three months. When does a battery enter Hibernation Mode? When a battery is less than 10% charged, it will enter Hibernation Mode after approximately six hours of nonuse. When a battery is completely drained, it will enter Hibernation Mode within 10 minutes of turning off. What functions can the power button perform? a. Turning the battery on and off: Press the power button once, and then press again and hold it down for at least two seconds to turn the battery on or off. b. Checking the current battery level: Press the power button once to check the current battery level. c. Linking Spark and the remote controller: Hold down on Spark's power button for three seconds, and release on hearing a beep. Spark's front indicators will start to flash in red, signifying Spark and the remote controller have been linked. d. Delinking Spark and the remote controller: In order to use your mobile device to control Spark, you will need to delink the aircraft and remote controller. Power on Spark, and hold down on Spark's power button for six seconds until you hear it beep twice. Now Spark and the remote controller have successfully been delinked and you can search for Spark's Wi-Fi on your mobile device. e. Resetting Spark's Wi-Fi username and password: Hold down on the power button for nine seconds, and release after hearing it beep three times. Your Wi-Fi settings will be reset to the factory default. f. PalmLaunch: Power on Spark and place it on your palm with the camera facing you. Make sure your fingers are lower than Spark's arms. Press the power button twice when the flight indicators start to flash green. The indicators will change to a slowly flashing yellow, and FaceAware will begin to recognize your face. The front indicators will turn to green if detection is successful, and PalmLaunch will be activated. If not, the indicators will flash red. What can I do with the two USB ports on the Charging Hub? You can charge two mobile devices or your Spark. Updating Firmware Can I use other apps while DJI GO 4 is updating? No. If you do, the update will fail. You will then need to download the firmware and update again. Why does DJI GO 4 remind me to reconnect to Spark's Wi-Fi right before it restarts to complete the update? Before the update is complete, Spark will need to restart. Once it does, reconnect your mobile device to Spark's Wi-Fi. DJI GO 4 is just reminding you that you will need to do this for a successful update. Can I disconnect from the internet once the firmware is downloaded successfully? Yes. If the aircraft or the remote controller battery levels drop below 50% during an update, will the update fail? No, but it is recommended that both have a high level of battery charge during the update. What should I do if the aircraft and battery firmware versions are inconsistent? Connect Spark to DJI GO 4, and the app will inform you of appropriate updates to ensure consistency. What should I do if the update is really slow? Please wait patiently and do not operate Spark or the remote controller during the update. Usually, it takes two minutes to update the remote controller and five minutes to update Spark. If the update process is taking much longer, please check your internet connection or move to a different environment. You could also restart Spark and the remote controller to begin the update again. What factors could lead to an update failure? a. Low battery level. Make sure the battery level is higher than 50%. b. Powering off Spark or the remote controller during the update. If this happens, please restart Spark/remote controller and begin the update again. c. Internet disconnection when downloading firmware. d.Aircraft and remote controller firmware version inconsistency. Use DJI GO 4 to update the aircraft and remote controller to the latest version. 

 It is recommended that you use DJI Assistant 2 on your computer to update your aircraft. 
Please note that Spark will restart once the update finishes.
Kami melayani pembelian corporate (B2B) dengan pembuatan penawaran. Silahkan isi form dibawah ini untuk pembuatan penawaran
Ringkasan
Berikan ulasan Anda terkait produk ini atau layanan kami
Ulasan hanya bisa dilakukan oleh konsumen yang sudah melakukan pembelian terhadap produk ini
Dji spark combo
Barang oke , packing mantap , sukses wearinasia - 12 Agustus 2017
Dwison
( Verified Buyer )
Second time
After DJI Mavic Pro fly more combo & some of it's accesorries, this is my second time to bought drone here. Only white and green color were avaible at that time. I choosed the white ones. Good drone as I expected & friendly staff as always. Nice! - 10 Agustus 2017
Belum ada diskusi untuk produk ini. Silahkan login/masuk terlebih dahulu untuk menambahkan pertanyaan!
Ulasan lainnya dari Produk DJI
Sangat Puas!
Pesanan sudah sampai dengan aman, packing rapih banget, banyak nanya2 dijawab dengan sabar oleh CS. Thanks :) - 4 Oktober 2018
Dantik
( Verified Buyer )
Best seller
Pengiriman cepat, packing bagus, garansi TAM 1 tahun. Product ori. Thank you WIA. - 28 September 2018
Best seller
Pesannya sangat mudah,pengiriman sangat cepat (estimasi pengiriman 3 mnggu realnta cuma nunggu 2 mnggu thanks wearinasia kdpn blnja dimari lagi ???????? - 17 Agustus 2018
Dji Mavic Air Onyx black combo
Dji mavic air sudah saya terima dengan baik dan thank you buat bonusnya. Best seller bngt deh. Thank you so much Wearinasia - 2 Oktober 2018